On July 29, MIT Provost Martin A. Schmidt and Associate Provost Krystyn Van Vliet attended a groundbreaking ceremony to celebrate the construction of Landmark Bio, a new 40,000-square foot biopharma manufacturing facility at The Arsenal on the Charles in Watertown, Massachusetts. Jongyoon Han, MIT professor of electrical engineering and biological engineering, and Richard D. Braatz, the Edwin R. Gilliland Professor, faculty research officer, and professor of chemical engineering at MIT also attended the event.
Landmark Bio emerged from a public-private partnership formed in 2019 among MIT and four founding members: Harvard University, FUJIFILM Diosynth Biotechnologies, Cytiva, and Alexandria Real Estate Equities.
The facility — which will house manufacturing and development spaces under the same roof — is open to MIT faculty and their research groups conducting research to advance cell-based and RNA-based therapies for challenging diseases such as cancer, as well as for regenerative medicine. Landmark Bio's mission is to advance and remove barriers to manufacturing technologies while serving as a forum for workforce development available to workers in Massachusetts and beyond.
"With this collaboration among academia, industry, and government, we have a collective opportunity to advance the technologies that manufacture and distribute new and next-generation medicines by incubating and analyzing the data behind those technologies," says Schmidt. "MIT is proud to play a role in the development of new technologies to make, measure, and analyze new medicines better than we can today."
For MIT, the partnership will connect to the Institute's ongoing advanced manufacturing workforce development efforts including a hands-on cell therapy manufacturing offering piloted this past spring at MIT. Van Vliet led the development of a course to train workers pursuing careers in advanced biomanufacturing in Greater Boston-Cambridge and beyond. More than 2,000 students in the United States and from 90 other countries enrolled in the first online offering.
"This includes MIT's Center for Biomedical Innovation as well as online classes and hands-on training to enable reskilling and upskilling of tomorrow's manufacturing workforce. Many roles are needed to make these next-generation medicines reach more patients," says Van Vliet.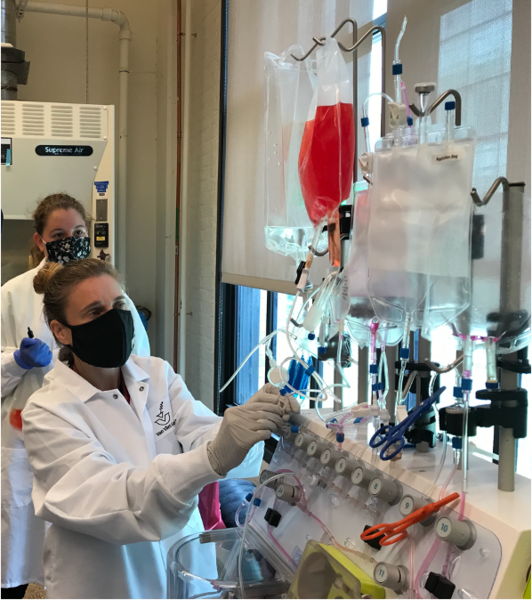 Photo courtesy of the Office of the Provost.
A public-private collaboration, Landmark Bio partner members include Beth Israel Deaconess Medical Center, Boston Children's Hospital, Brigham and Women's Hospital, the Dana-Farber Cancer Institute, Massachusetts General Hospital, and the Massachusetts Life Sciences Center.  
"The partnership promotes cross-sector collaborations to accelerate innovation and strengthen the leading position of the Commonwealth in the life sciences," says Ran Zheng, Landmark Bio's chief executive officer. "One of the initiatives we are collaborating on is workforce development. With MIT's world-class approach to teaching and learning and Landmark Bio's cutting-edge process development and biomanufacturing facility, we believe we can provide an immersive learning experience to a diverse pool of talent, help address the workforce shortage in novel modality development and manufacturing, and enable the growth of the life sciences sector."
Each of the founding members invested in the construction and operations of the facility, which is slated to open in 2022.