Training for a black belt in karate requires patience and focus — and, above all, support. While in high school, MIT senior Christina Lalani would practice for more than 10 hours a week at her karate school in Scottsdale, Ariz., but never without her partner, an effervescent mother in her 30s. When her training partner passed away from colon cancer, Lalani harnessed her grief and turned it into motivation.
"She passed away in the middle of training, and it was the first time I had to deal with loss," she says. "That experience pushed me to get involved with cancer research at the end of my time in high school, and to continue at MIT."
Lalani, a biology major who will graduate in February, spent her freshman year in the lab of Michael Cima, the David H. Koch Professor of Engineering, where she researched a drug-delivery device for treating ovarian cancer, the fifth-leading cause of cancer death among American women. Lalani, who was tasked with optimizing the device, says the experience expanded her research focus beyond the basics of biology, and into materials science and engineering.
International medical outreach
Lalani sees research as "an opportunity for problem-solving and overcoming challenges." An aspiring doctor, she has worked in a hospital in Mumbai — through the MIT International Science and Technology Initiative, or MISTI — and in Lima, with MEDLIFE Brigade. In both places, she found the absence of science education in poverty-stricken populations to be a major challenge — but one that energized her.
In Lima, Lalani encountered a young boy who had never seen a toothbrush. The boy had blackened teeth, and was scheduled to have an extraction that day. Lalani knew that when his adult teeth grew in they would meet the same fate, unless he learned to use a toothbrush. The experience was sobering, but she turned it into a teaching moment, and watched as the effect of her lesson multiplied before her.
"After I taught him, he went over to his mom and sister, explaining to them why brushing your teeth is important, and showing them how to do it," she says. "Seeing that the change I affected in one person could go on and have this domino effect was really inspiring."
Lalani maintains her relationship with MEDLIFE as president of MIT's chapter, but it was her experience in Lima that really highlighted the need to understand local cultures, as well as the personal experiences of patients, before trying to implement medical practices.
At the hospital in Mumbai, Lalani spent several weeks observing patients with joint and muscle disorders. Many of the patients had family members with similar health problems, but could only afford medication for one person. She saw how often older children would try to give their own medication to their parents — realizing that in the U.S., the opposite would be more common.
"I've found, in my experiences looking at health care globally, that it's so important to understand the culture of the place that you're going to," she says. "If you don't take the time to try to understand their needs and their backgrounds, then you really aren't going to affect any change."
Lalani used this observation to pitch a patient noncompliance study to her overseeing physicians, who were at first reluctant. But three weeks into her 10-week internship, persistence got her the green light. Her study's results ultimately showed that the biggest reasons for patient noncompliance in Mumbai were related to living conditions.
"Meeting health needs was just a lower priority for many of these [low-income] people than meeting their basic needs, or finding food to eat," she says. Additionally, her study found that refrigeration and preservation of medicine played a large role in noncompliance.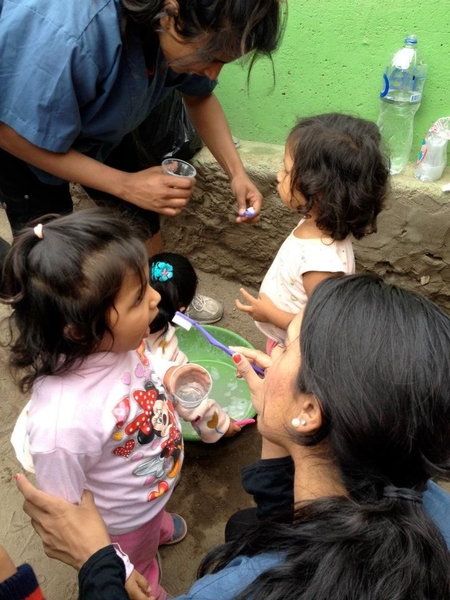 Courtesy of Christina Lalani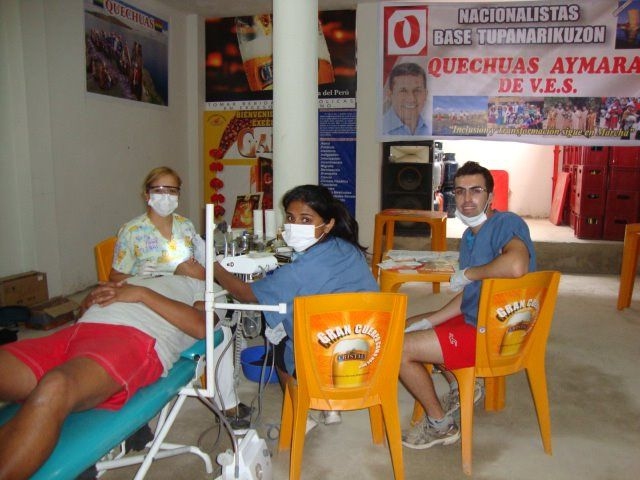 Courtesy of Christina Lalani
Nutritional value
Back in the U.S., Lalani fuses health education with individual experience through a pediatric nutrition program that she designed and implemented. Some 800 students in Boston Public Schools and 300 students in Phoenix now participate. The program, called "LAHL: Living a Healthy Life," uses individual goal-setting activities to address six pillars of health: reducing time spent in front of screens, eating appropriate fruits and vegetables, increasing physical activity, reducing intake of sugary drinks, eating out infrequently or ordering responsibly, and reducing intake of candy.
Lalani maintains a close relationship with her youngest brother, who is 11, and the nutritional program was born from her interactions with him.
"I realized how little my brother and his friends knew about nutrition," she says. "Also, knowing how my brother functions and how short his attention span is, I knew I had to base the program on doing things, not talking about things."
Lalani also has a "sister" through the Big Sister Association of Greater Boston. Her little sister, who is 12, aspires to be a veterinarian, so Lalani recently organized a trip to the New England Aquarium.
"It's something that she enjoys because she gets away from home for a little bit," Lalani says. "And it's something I really enjoy because it's a break from my normal routine."
Karate's true lessons
Over the course of her undergraduate years, Lalani's research focus has shifted from cancer to infectious disease; she now works in the lab of Deborah Hung at Massachusetts General Hospital studying cholera, a bacterial infection caused most commonly by human consumption of contaminated water. Lalani focuses on how the bacteria actually cause the disease, hoping to better direct treatment and prevention in the future.
Despite her move away from cancer research, as president of MIT's Colleges Against Cancer chapter she remains an advocate for the field, and her experiences at her karate school in Arizona have gone on to influence other aspects of her life beyond her initial research focus.
After countless hours of training, and a 13-hour exam, she failed her first attempt at attaining a black belt because she could not break a wooden board. The failure was hard on her, but also a moment of personal growth. Her instructor chalked the failure up to a confidence issue, not a lack of skill, and immediately challenged her to try again.
"The first thing my instructor did when I came back was come up to me with the board and say, 'You're going to break this right now,'" she says. "Even though I failed the exam, I found this new resolve and drive, and I was able to break that board. He made me break it over and over again, and after that it was never an issue."
It's the same resolve and drive that Lalani channels when exposing an aspiring veterinarian to animal life, understanding why impoverished patients in Mumbai are not taking their medicine, or teaching a Peruvian boy how to brush his teeth.