When you have a family, life becomes a balancing act of supporting your loved ones while managing your personal responsibilities. At MIT, three offices play a pivotal role in supporting graduate students with families — their partners, their children — as they create that balance. 
Naomi Carton serves as associate dean for graduate residential education (GRE), supporting the entire graduate residential community through programming, leadership, and opportunities such as Family Housing's tailored opportunities for their residents. In the Office of Graduate Education (OGE), Adj Marshall — program administrator for graduate student families — works closely with partners across campus to support graduate students as they bridge their academic careers and personal lives as parents. Carton and Marshall's offices both provide support for graduate students' partners, but such support is the focus of Jennifer Recklet Tassi, senior program manager of MIT Spouses & Partners Connect. Tassi and her team support the growth of their members through consultations, programs, events, and other opportunities for members to connect with each other, pursue their goals, and learn about life in the Greater Boston Area. The three recently spoke on their roles supporting graduate student families.
Q: MIT is a community of students, staff, and faculty … but also of families. What do you want the MIT community to know about the Institute's graduate student families?
Carton: Our graduate families are a special population at MIT. They come here with a wealth of experiences and backgrounds that all of the community can learn from. 
Marshall: Our graduate student families with children come in all shapes and sizes. We have graduate students with children from newborn to 25+, and family sizes from one child (and potentially growing) to three or four children. Some of our graduate student families are international and find themselves navigating a new culture while raising a family, on top of being a student. We have same-sex parent families, graduate students raising children on their own, divorced family units, adopted/fostered children, and stepparents among our studens. Each MIT family is unique. 
Recklet Tassi: I would love for the wider community to have the opportunity to get to know the spouses and partners of our graduate students. They are as interesting, diverse, and accomplished as our graduate students are. Most of them have put a career or a job they love on hold to help their family member to pursue their MIT dream, and they came to Boston, not knowing what opportunities would be available to them. They are professionals, parents, neighbors, and friends, and they contribute to the rich diversity of MIT.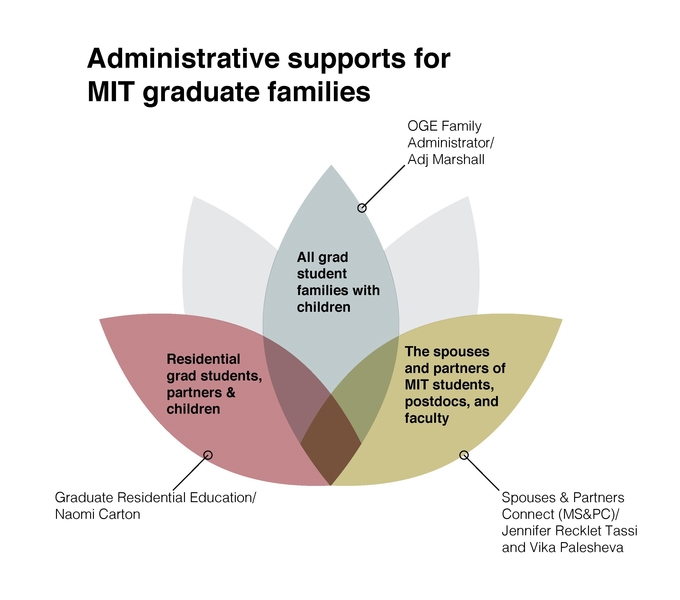 Image courtesy of the Office of Graduate Education.
Q: What resources should graduate student families and their supporters know about?
Carton: The Office of Graduate Residential Education offers a variety of support, including food education and food grants. We have been able to start slowly rolling out cooking classes, nature classes, and supporting the Site 4 and Westgate communities in developing programs for children. If students are interested, they can watch their house email lists and newsletters for the latest updates.
Marshall: The Graduate Families Program within the Office of Graduate Education issues a twice-monthly Graduate Families Newsletter. The newsletter showcases on- and off-campus family programming and policy updates, while building community through sharing family life at MIT. The office also offers educational sessions on navigating the pK-12 school enrollment system and supports students in navigating family policies and applying for family benefits including childbirth accommodation, parental leave, backup childcare, and the grant for graduate students with children. Building a culture of family inclusivity is essential to student success, and it's grounded in those family-focused policies and benefits. 
Recklet Tassi: The MS&PC Professional Development Fund reimburses spouses or partners of current MIT students, postdocs, or visiting researchers up to $500 for activities related to their job search and career development, such as classes, conference registration fees, and professional organization membership dues. These educational and networking opportunities support our members' professional growth and development, and enable them to continue on their career track while supporting their spouse's or partner's studies and research at MIT.
In fall 2020, we awarded a total of $4,899 to 11 applicants. Awardees had a variety of career backgrounds, such as pastoral ministry, nursing, civil engineering, early childhood mental health, interior design, wildlife conservation, and cinema and media studies.
One of our awardees shared, "Without the fund, I would not have access to these incredible opportunities, which are often so vital for academics to build and strengthen connections, as well as improve the work we put out into the world. Now that our child is born, it is also a relief to know that I am doing everything I can to present the strongest work and service portfolio for the academic job market — again, thanks to the fund."
Q: Looking forward, what developments do you see for the graduate student family community?
Carton: Hopefully, as we continue the reopening process, we will be able to reintroduce children's in-person programming and enhanced enrichment programs for our families. A new leadership opportunity for spouses and graduate women will launch in a few weeks — a six-week enhanced leadership certificate that includes coaching sessions. 
Marshall:  My position as program administrator for graduate families is brand new, less than a year old. It builds on prior efforts, and there is still a lot of potential for growth. I foresee a consistently evolving repertoire of policy enhancements and programming to support graduate student families' ability to thrive in the MIT community. I am looking forward to building collaborations with partners across each of our academic units, MIT Medical's Student Mental Health and Counseling, and the MIT List Visual Arts Center. 
Recklet Tassi: MS&PC is celebrating its 50th anniversary this academic year, and we are looking forward to 50 more years of supporting students and their family members. MIT is unique among universities in its consistent support of this program over the years. The Institute's investment in this area is a testament to its dedication to graduate students' whole lives.