Matt Damon, the world-renowned actor and director who rose to fame in 1997 with his portrayal of an MIT janitor and math whiz in "Good Will Hunting," gave this year's MIT Commencement address and quipped that this is the second time he's had a "fake graduation" in his hometown of Cambridge. The first time was when he participated in commencement at Harvard University even though he never graduated, having left a semester early to pursue his acting career.
"I did grow up in the neighborhood," he said, but being on the podium at MIT's Commencement, he said, "let's face it, is an honor I didn't really earn." Listing some of the luminaries who have occupied that spot in the past, including Nobel laureates and heads of state, he said, "and who did you get? The guy who did the voice for a cartoon horse."
In fact, his self-deprecating humor aside, Damon is not only a respected actor with a long and impressive list of film credits, he is also the founder of a charitable organization called Water.org, dedicated to a cause very much in line with MIT's mission to help tackle the world's most important and challenging problems. The organization aims to provide clean, safe water and sanitation to the millions around the world who lack such access.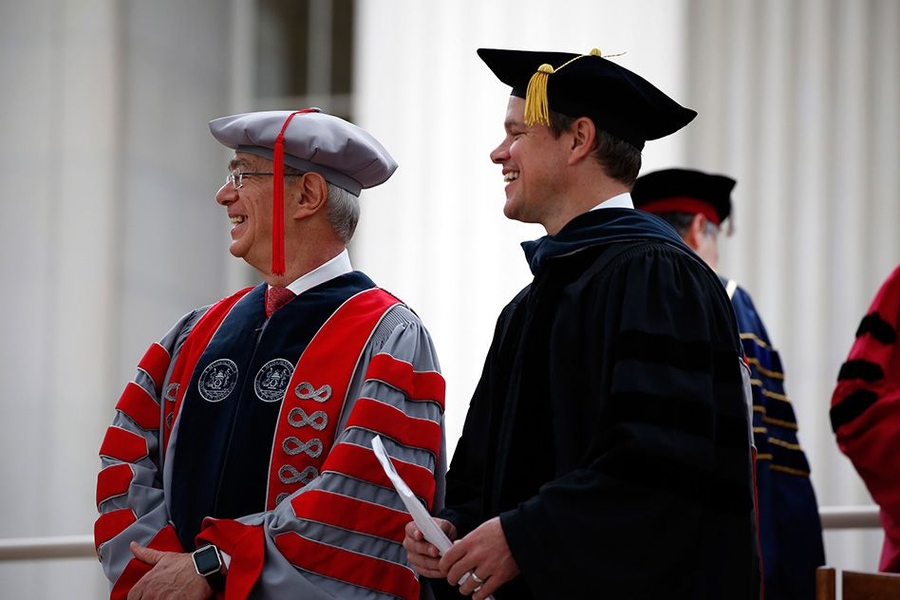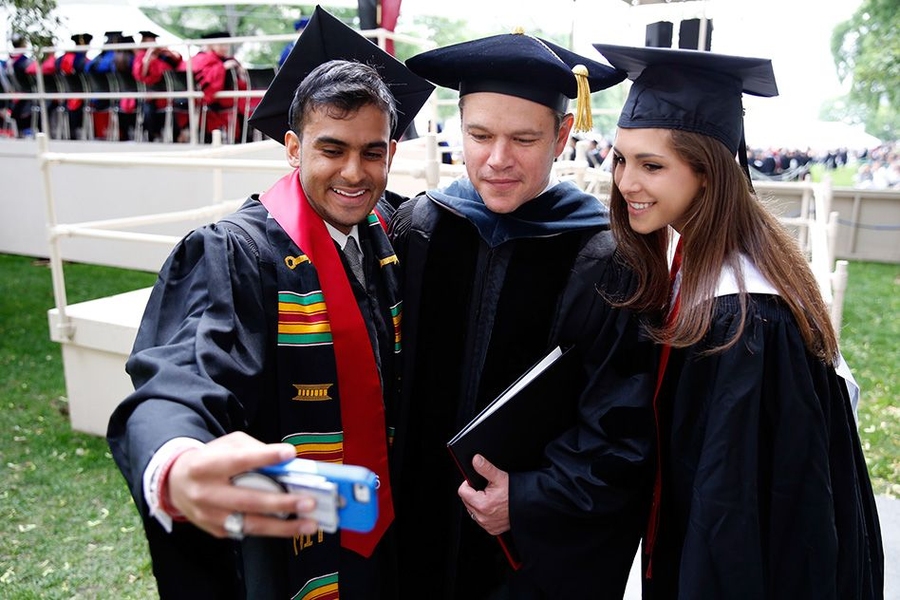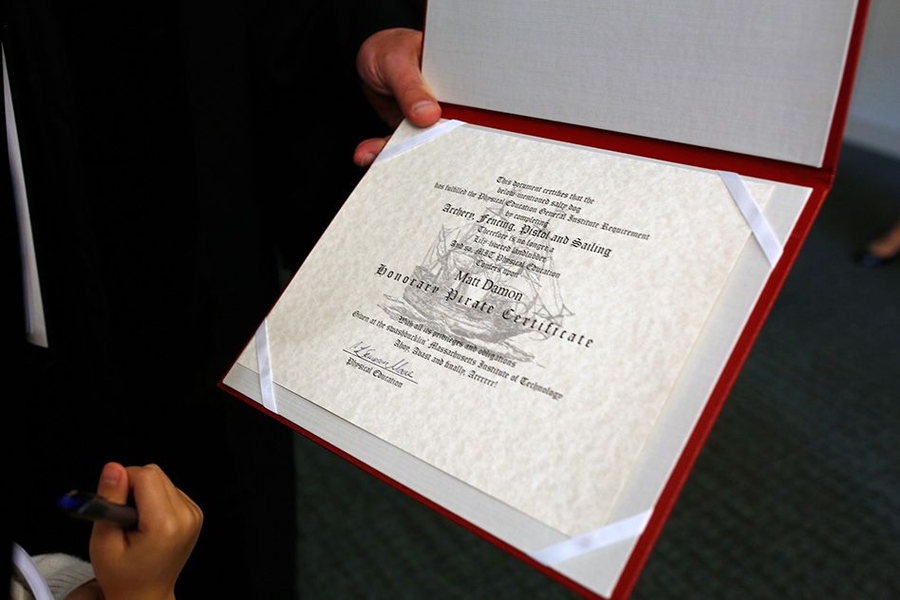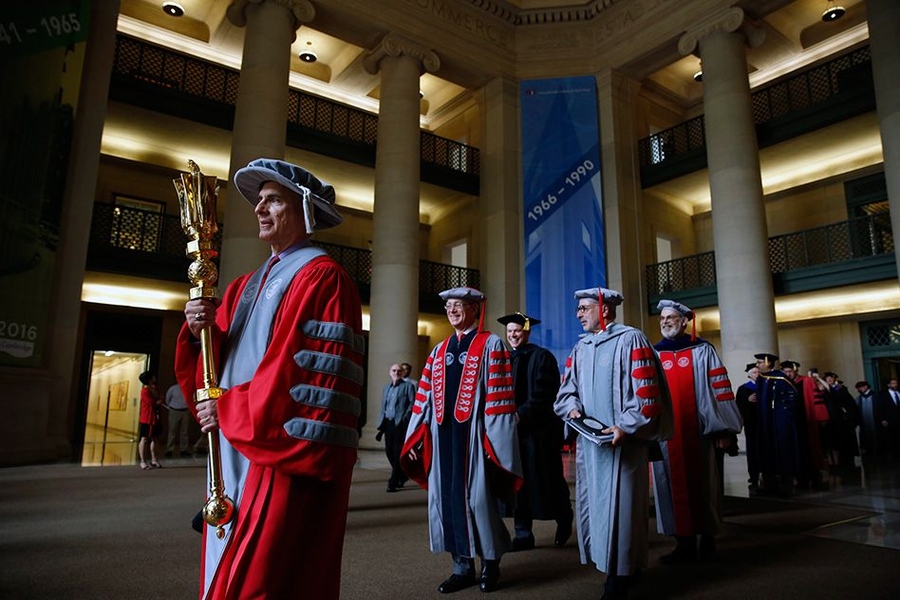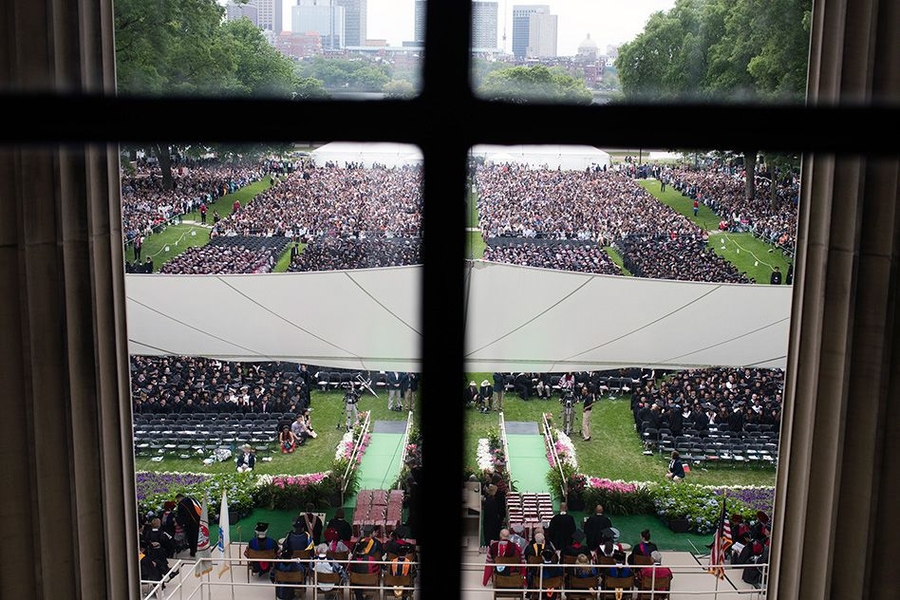 "I couldn't have gotten in here," Damon said about MIT, but when he and his friend Ben Affleck were growing up in the area, "to us MIT was kind of the Man, this big impressive impersonal force." But it became more personal to him when they were working on "Good Will Hunting." One scene, he said, was based on a real experience his brother had on campus, when he walked by a blackboard in the hallway and, as a joke, wrote an elaborate but completely phony mathematical equation on the board. "It was so cool and completely insane that no one erased it for months," he said.
Damon mentioned an idea that has been discussed recently among physicists, that our whole universe might be a giant simulation created by some very advanced civilization. Astrophysicist Neil deGrasse Tyson, he said, "put the odds at 50-50. I don't know how scientific that was but it had numbers in it so I was impressed."
Quoting MIT physics professor Max Tegmark, Damon said if our reality is in fact a simulation, "my advice is to go out and do really interesting things, so the simulators don't shut you down." And if it's not a simulation? "Either way, what we do matters," Damon said. "What we do affects the outcome. So either way, MIT, you've got to go out and do really interesting things, important things, inventive things. Because this world, real or imagined, this world has some problems that we need you to drop everything and solve."
Damon passed along some advice he said he had received many years ago from President Bill Clinton: "Turn towards the problems that you see." He said the older he gets, the more he appreciates the wisdom of that advice. "That's what I want to urge you to do today: Turn towards the problems you see. … Engage with them. Walk right up to them and look them in the eye, then look yourself in the eye, and decide what you're going to do about them."
Damon spoke about the inspiration for his own work to try to address one of the world's big problems, the need for clean water. "As I learned about water and sanitation, I was floored by the extent to which it undergirds all these problems of extreme poverty. The fate of entire communities, economies, countries is caught up in that glass of water, something the rest of us get to take for granted."
Working to try to alleviate such problems, he said, can bring great satisfaction. "You see some tough things out there. But you also see life‐changing joy. And it all changes you."
Damon offered some advice to MIT's 2016 graduating class: "The world wants to hear your ideas — good and bad. But today's not the day you switch from 'receive' to 'transmit.' Once you do that, your education is over. And your education should never be over. Even outside your work, there are ways to keep challenging yourself. … Whatever you do, just keep listening. Even to people you don't agree with at all."
As the graduates go out to tackle the world's problems, he said, "There are potentially trillions of human beings who will someday exist whose fate, in large part, depends on the choices you make … on your ideas … on your grit and persistence and willingness to engage."
On a day that threated rain that never came, and turned out to provide nearly perfect weather, 1,076 undergraduates received their degrees, along with 1,780 master's and doctoral students, in MIT's Killian Court.
MIT President L. Rafael Reif reminded the graduating class that he, like them, started in 2012, so this is the first class that he has followed all the way from its initial Convocation to Commencement. "So, we have a lot in common," he said. "Except for one thing: Unlike me, you finished all of your problem sets! So, unlike me, you get to leave!"
Reif told the graduates that leaving MIT for the outside world may be a bit like going to some distant exoplanet. How would they explain to that planet's occupants what the world of MIT was like? For one thing, "on Planet MIT, we love hard problems. And we know that, if you're working alone, you're most likely doing it wrong," because cooperation and collaboration are key to both scientific progress and human happiness.
Noting some special achievements made by members of this class, he said "some of today's graduates recently won first prize in the Hyperloop Challenge. They designed a futuristic pod that could transport passengers from city to city, through special tubes, at 750 miles an hour!" But in addition, he said, "Thanks to the leadership of many of today's graduates, we are making sure that MIT practices systematic acts of kindness and inclusion, too."
He added that "As you go out into the world, heart is what makes the hard problems worth solving. Heart is what makes the data sing with meaning. Heart is your best blueprint as you invent the future. And when, sometimes, you find yourself adrift in deep space, it will be a human connection — hand to hand, and heart to heart — that will bring you home safe."
As they head out into the world, Reif urged the graduates "to hack the world — until you make the world a little more like MIT. More daring and more passionate. More rigorous, inventive and ambitious. More humble, more respectful, more generous, more kind."
Speaking to his fellow graduate students, Michael McClellan, president of the Graduate Student Council, encouraged them never to fear failure. Thomas Edison, he recalled, once said, "Many of life's failures are people who did not realize how close they were to success when they gave up." Bearing that in mind, he said, "Celebrate trying things. Keep innovating. Whether in the boardroom or the biology lab, dealing with molecules or a mission to Mars, your next failure might come just before your world-changing discovery."
Senior class president Anish Punjabi told his fellow graduates that "there is no substitute for genuine kindness. People don't care how much you know, until they know how much you care." Punjabi also presented to President Reif the senior class gift, which set new records for both the amount raised and the level of participation: 87.7 percent of the class made contributions, he said.
"We give thanks that the universe challenges our sense of wonder and points beyond itself to greater discoveries," said Robert Randolph, who is retiring this year as Chaplain to the Institute, in his invocation at the Commencement. "We understand that our challenge is to not only give back to those who have given to us, but to call into being by our work a world that is whole!"