When MIT senior Salvador Esparza walks across the stage in Killian Court this June and receives his degree — in brain and cognitive sciences, with a minor in theater arts — he will have gained more than just a diploma. Esparza will be the first in his family to finish college.
Esparza's father left middle school to work on his family's farm, and his mother was pulled out of high school; they wanted things to be different for their children. Two years before Esparza was born, his parents immigrated from Jalisco, Mexico, to California, later moving the family to Chicago.At home, Esparza and his younger brother spoke Spanish. When he began school, Esparza was lost in a flood of unfamiliar words. "Spanish was my first language, and I remember at first feeling really alienated in school because I didn't speak English," Esparza says. "So I started doing ESL, and eventually teachers stopped thinking I was slow to get things and realized it was more the language barrier."
He began to excel in his classes, and in middle school Esparza was selected for a science outreach program at the Illinois Math and Science Academy, a residential high school outside Chicago. For three hours after school each day, he would participate in hands-on labs and activities that opened up a new side of science. "I remember how exciting that was; in school, you'd sit in a classroom and hear all this theory, but you'd never get to touch anything," Esparza says.
At a young age, Esparza decided he wanted to become a doctor; his uncle, who was "a pioneer" in the family, had recently become certified as a nurse's assistant. "He became this role model for me," Esparza says.
When it came time to apply to college, Esparza's counselor, Julia Husen, suggested MIT. "I was a little taken aback; I had thought I would stay in Chicago. But she had faith in me, and so did a lot of my teachers at that school," Esparza says. "That's what really propelled me to MIT, opened up a whole world of possibilities."
A new world, and a new home
The world of possibilities that Esparza found was a very new one. But there was one place that felt like home — his dormitory, Spanish House (part of New House). "It seemed like a comfortable idea, to be around people who speak my language, share in my culture," Esparza says. "Within a few days, I felt like I had joined a family."
Esparza also joined LUChA (La Union Chicana por Aztlan), a Mexican-American social and political organization at MIT. "I got to learn a lot more about Mexican culture than I had before," he says. During his sophomore year, he became president of the club. "It became very important to me — my identity, having this community on campus," he says.
He found a second community in MIT's theater programs, with Dramashop and Shakespeare Ensemble providing an outlet for a love of the stage that was established when a friend convinced Esparza to try out for an eighth-grade production of "Aladdin." At MIT, Esparza has played the title role in a "very experimental production" of Chekov's classic play "Uncle Vanya," as well as King Claudius in Shakespeare's "Hamlet." "It's something I can't see myself ever giving up," Esparza says.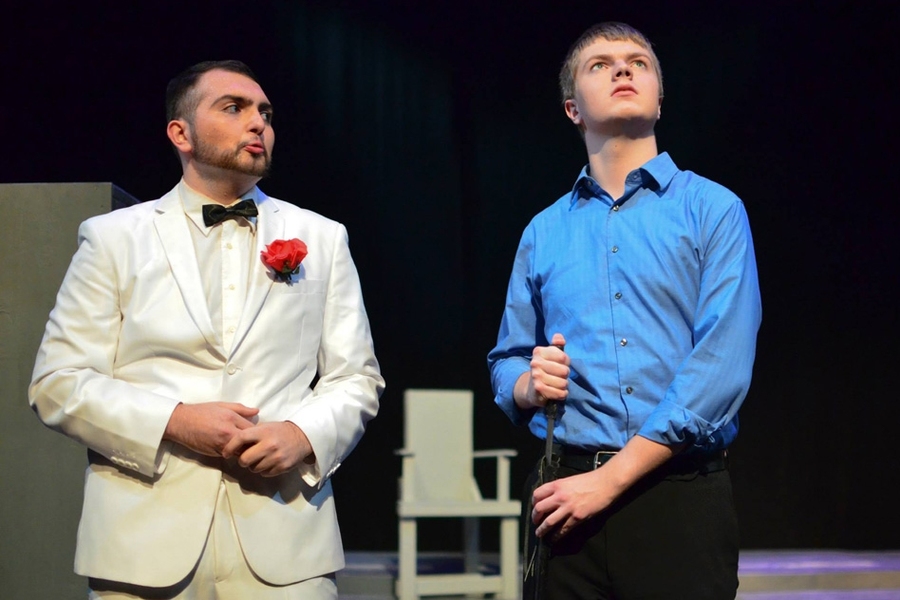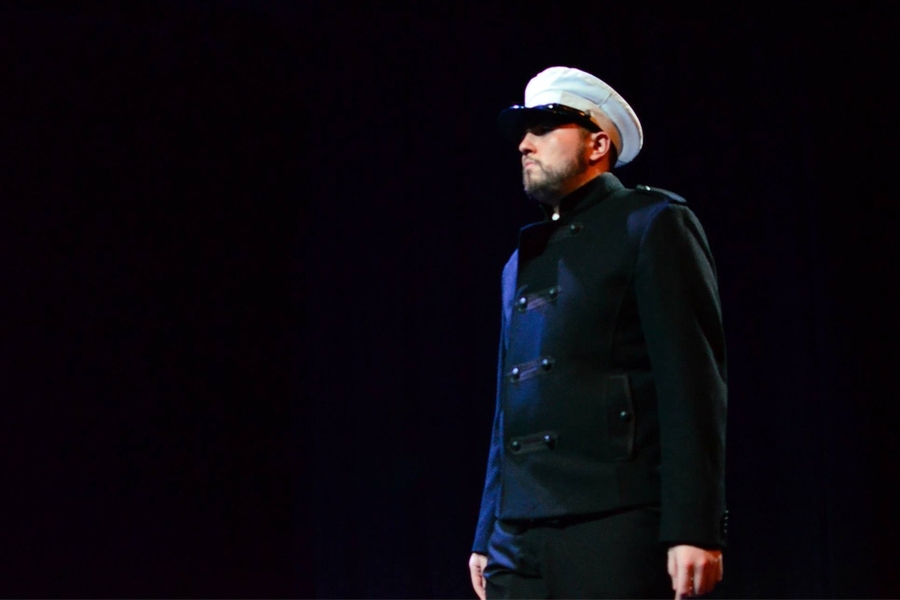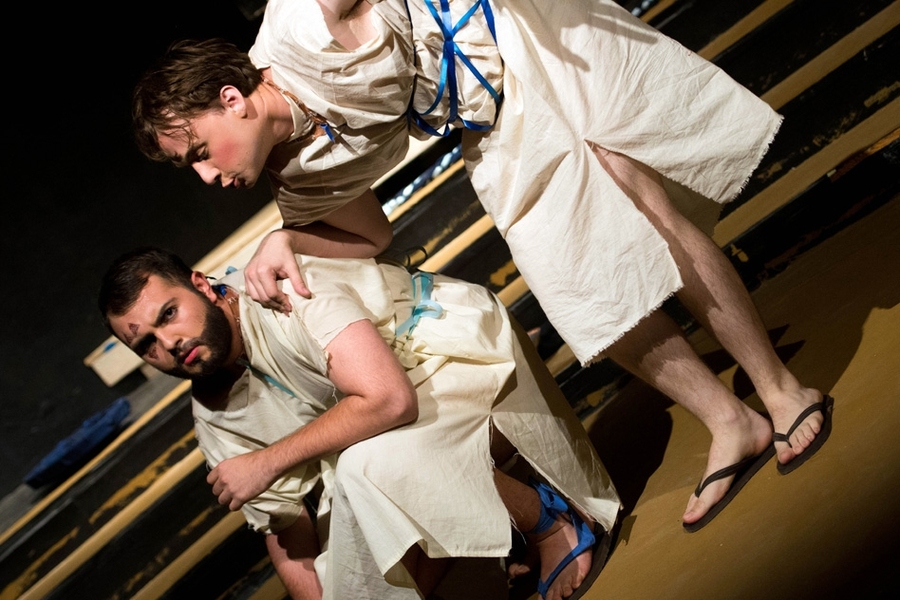 While he found support in various communities around MIT, challenges remained. Navigating the track of a premedical student was bewildering at times, Esparza says. He was the first person in his immediate family to attend college, and certainly the first to aspire to medical school. "I was afraid to reach out to the pre-health office," Esparza says. "I had this feeling that everyone else knew what they were doing."
Once he did, though, the resources he needed were there. "My pre-health advisor, Jennifer Earls, was absolutely amazing," Esparza says. "She has really helped me identify my strengths and kept me focused on what I need to do to accomplish this dream I've had forever."
He began to wish he had begun learning about the process earlier, and decided to do something to help younger students who might find themselves in a similar situation. Esparza and a friend founded the MIT chapter of the Minority Association of Premedical Students for those who may feel intimidated by the complex process of preparing for and applying to medical school.
"I feel like a lot of people have a need to get support from people who relate to their upbringing and background. These are the people we rely on to help us get through everything, who we turn to for advice," Esparza says. "Having a support system run for minority students, by minority students, is really important for that cause."
The brain on the mind
Two riveting lectures on neurobiology in his freshman biology class compelled Esparza to choose Course 9, brain and cognitive sciences, as his major. "I took a risk, and it paid off. It was the greatest decision I've made at MIT," he says. "When I was taking 9.01, Intro to Neuroscience, I would walk out of lecture every day thinking, 'I am living the material.' It was just amazing that we could study this, and that we had an idea as to how we experience the world."
During his junior year, Esparza delved deeper into that material in the lab of Laura Schulz, an associate professor of cognitive science and head of the MIT Early Childhood Cognition Lab, where he assisted in research on the development of morality in children ages 2 to 4.
With a puppet on each hand, Esparza would act out a scenario for the children; he would then note their reactions to the puppets' behavior. As fun as it was, Esparza says, it was also a study in the challenges of controls in behavioral research — from the presence of parents to the clothing and gender of the puppets. "It was a very complex procedure, considering it was a little puppet show," he says.
Esparza's course and research experience have convinced him of his path. He hopes to go on to medical school, specialize in cognitive science and, one day, practice as a psychiatrist. "I'm most engaged during the day when what I do involves interacting with people," Esparza says. "Being a psychiatrist, you're not only treating a person's body, you're also catering to them as a person; it's increasing their quality of life in a completely different way. I think it's really, really great."