At a health clinic in Guatemala, Paula Trepman watched as a visiting physician from the United States showed local workers how to properly administer a labor-inducing drug to pregnant women — a process that, if done at the wrong time, could have fatal consequences.

It was the summer after her sophomore year at MIT, and Trepman — now a senior — was helping to lead a global-health program for high school students. Yet the trip also solidified her own commitment to health care: "I saw firsthand how not having access to those services could have life or death consequences," Trepman says.
A biological engineering major from Mercer Island, Wash., Trepman has conducted research on red blood cell development; traveled to Guatemala, Mexico and Kenya to work on public-service projects; and is currently developing a test for dengue fever that could be used in even the most resource-poor settings. In her free time, Trepman loves to run, do yoga, and engage in ballet, jazz and lyrical dance.

Trepman's interest in medicine started at a young age, when she would tag along to the hospital with her mother, a physician who treats leukemia patients. Trepman saw the impact her mother had on patients' lives, and she heard stories from her grandparents about the tragedies of inadequate medical care.

"Two of my grandparents were Holocaust survivors, and one of them almost died from typhoid because she did not have access to health care, nutritious food and water," Trepman recounts. "Their history fuels my passion to do whatever I can to make sure that other people have access to those basic services."

What's in your blood?

In many parts of the world, health-care technologies are too costly or too difficult to use without extensive training. "In impoverished and remote areas, there may not be access to culturing facilities or other laboratory services that are needed to diagnose patients," Trepman says.

Along with other researchers in the lab of Lee Gehrke, a professor of health sciences and technology at MIT, Trepman is working on a solution: a single strip of paper that, with a drop of a patient's blood, would visibly signal whether or not the patient is ill.

"This test strip can be used to make a diagnosis by individuals with minimal training, so this technology can improve access to health care by empowering people at the local level," Trepman says. These on-the-spot diagnosis tools are known as "point-of-care diagnostics."

Trepman's project targets dengue fever, a painful and debilitating disease spread by mosquitoes and prevalent in tropical areas. Early diagnosis could mean better care for patients and recognition of the epidemic outbreaks, potentially preventing further spread of the disease.

Using different antibodies — Y-shaped proteins that our bodies' immune systems use to "tag" viruses or bacteria as foreign — and gold nanoparticles that appear red when dispersed, Trepman and the other researchers have created a strip that will show two red lines if a patient has dengue and one line otherwise.

It's an inexpensive and simple technology. But dengue fever exists as four types, and it's important to find out which kind a patient has. "When you're co-infected with two or more different serotypes, you have a higher likelihood of getting hemorrhagic fever," Trepman explains.

Currently, she's working on a strip that could differentiate among the four types of dengue. "Ideally, the strip will show five different catch lines — a control line and a line to detect each type of dengue virus," Trepman says.

Prior to her work in Gehrke's lab, Trepman did three years of research on red blood cell development at the Whitehead Institute with professor of biology and bioengineering Harvey Lodish. She has drawn on her experiences there in designing the paper-strip test for dengue. "As a biological engineer, you need to understand basic biology to be able to then apply it to projects such as point-of-care diagnostics," Trepman says.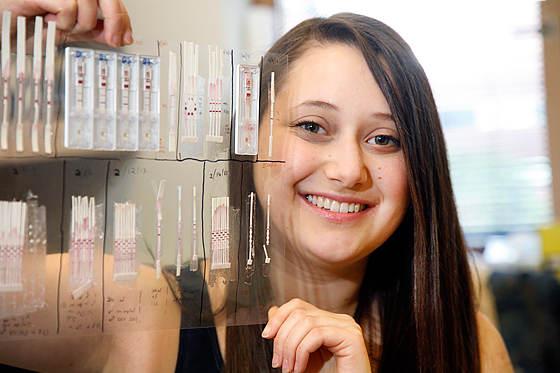 Paula Trepman
Photo: Allegra Boverman
Sowing change
Life-changing innovations don't always come from labs, though. With MIT's Global Poverty Initiative (GPI) during her sophomore and junior years, Trepman led two trips to rural Mexico, where students piloted a greenhouse project to generate a steady supply of fresh produce for surrounding communities.

Seven months of the year are too cold to grow crops, and many of the soil's nutrients have been depleted from years of growing corn, Trepman explains. "There is poor access to fruits and vegetables in this area of central Mexico. Most of the production is done in the northeast, and there is limited transportation in and out of those tiny communities," she says. "They might have enough calories in their diet, but they are not necessarily getting the nutrients they need," Trepman adds.

The students met with community members, who formed a committee to take charge of the project. "Although we helped by providing the technical knowledge and the building plans, local community members led the construction and taught the students how to use the greenhouses," Trepman says.

Trepman and the other students helped to construct 14 family greenhouses and two school-based greenhouses that local residents tended once the students returned to MIT. When GPI returned to check on the project, its members found a number of new greenhouses and increased consumption of fruits and vegetables. "People who had extra vegetables were sharing them with their family members or selling them on the side, too," Trepman recalls. "The project allowed people to take control of their own lives."

The many faces of global health

Besides the strip to diagnose dengue and the greenhouse project, Trepman has worked on medical-record technology in Kenya and, last summer, at the World Bank in Washington, D.C. Her experiences have convinced her that improvements are necessary on many different levels: basic research, technologies and policies.

In the future, Trepman plans to focus on maternal and infant care and wants to engineer point-of-care diagnostics for expectant mothers. "When women become pregnant, they are at a higher risk for contracting many illnesses," Trepman says. "For example, eclampsia is a disease associated with seizures during pregnancy and can be life-threatening." She hopes to develop a multiplex test for pregnant women that would include a number of different tests in a single device.

In the face of the world's problems, it can be hard to stay optimistic, Trepman says. But as she sees it, "The first step is to understand what is not working well, and then we can focus on developing a better solution."