Focus, confidence, and precision: Are we talking about sports or surgery? With MIT senior Laura Lu, both.

A top gymnast from Rockville, Md., who dreamt of competing at the 2008 Olympics in Beijing before tearing her shoulder in training, Lu bounced back from the disappointment and into a different passion: medicine.

Now a biology major at MIT who aims to become a Navy surgeon, Lu has always had what she calls a "penchant for medicine." When she was younger, Lu would watch medical TV shows while eating dinner, gazing with particular interest at the surgery scenes and perplexing her parents, she remembers with a chuckle.

"I was fascinated by how they could open someone up, fix it, and then they'd be better," Lu says.
But Lu had never considered taking her interest in medicine into the military — until she met with soldiers at the Walter Reed National Military Medical Center in Washington. As a sophomore in high school, Lu went with some friends to volunteer at the Mologne House, the hospital's outpatient hotel, where they spent time with wounded soldiers.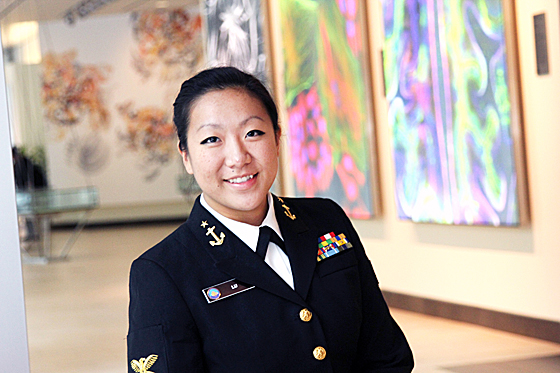 Laura Lu
Photo: Allegra Boverman
"Just talking to them made me want to be that passionate about a cause and about serving the United States," Lu says. "I'd often hear soldiers who were multiple amputees say, 'When can I go back with my guys and fight with them?' That kind of passion really inspired me to join the military."

Despite 35 hours a week of gymnastics practice and travel to competitions on weekends — from seventh to 11th grade, she was only in school for four hours a day — Lu completed the same coursework and exams as her classmates, graduating as valedictorian of her class. The following autumn, she arrived at MIT for the start of her freshman year.

Lu's typical day at MIT begins with early-morning Naval ROTC training, which she currently leads as the MIT-Harvard-Tufts commander. Then it's classes, varsity lacrosse practice, time with her sisters in Kappa Alpha Theta, perhaps a meeting of Smart Women Securities — an investment-education club that she helped found and lead — and time in the lab, where she pursues the medical research she loves.

Joining the fight against cancer

As an undergraduate researcher in the laboratory of Institute Professor Phillip Sharp at the Koch Institute for Integrative Cancer Research, Lu studies MALAT1, a noncoding RNA that is misregulated in metastatic lung cancer.

"In some cases, it's overexpressed so there's too much of it, and this overexpression is associated with the spread of cancer within the body," Lu explains. "It can potentially be a therapeutic target for cancer treatment."

Researchers do not yet fully understand the relationship between MALAT1 and cancer, but a first step is to understand more about MALAT1 itself. Mentored by postdoc Jeremy Wilusz, Lu has focused her research on a segment at the end of the RNA that keeps the molecule stable rather than being rapidly degraded.

Most RNA molecules have what biologists call a "poly-A tail," a long segment of adenine nucleotides at one end that makes the molecule stable. But MALAT1 doesn't seem to have this tail — so how does it avoid degradation?

"We asked, 'What's going on here?'" Lu says. By mutating the end segment of MALAT1 — for example, by deleting certain nucleotides — the research team was able to determine which regions were necessary for the molecule to be stable and used the results to model potential structures. Finally, they determined that it was a triple helix.

"It's a novel thing," Lu says. "We realized you can have a triple helical structure at the end of an RNA that can provide stability even when it doesn't have that canonical poly-A tail."

Instead of two strands woven together into the double helix seen in DNA, this structure contains three strands that wind together to form the end of the MALAT1 molecule. This additional insight into the workings of a player in cell regulation is a step toward better understanding what goes wrong in cancer; the results of this study were published in Genes & Development last year.

During her time at MIT, Lu has also joined the fight against cancer outside the lab: As a vice president of fundraising for Colleges Against Cancer last year, she helped raise $70,000 for the annual Relay for Life held on campus, with proceeds going toward cancer research and patient programs.

"It's really awesome to see everyone on campus come together for the cause of fighting back against cancer," Lu says.

Medicine in the military

This past summer, Lu returned to the place that first inspired her dream — the Walter Reed National Military Medical Center. There, she assisted in a variety of studies: one involving phantom limb pain, another regarding traumatic brain injury, and a third testing improved prostheses technology.

"They put several myoelectric sensors on the residual limb, so that the wounded soldier could intuitively control the prosthesis from just his brain telling his muscles to contract," Lu explains. The prosthesis is capable of dexterous movements with full finger, thumb, and wrist control.

Another prosthesis used myoelectric sensors implanted directly into the muscle — the first time such an implant had ever been used. "It was a huge day when that happened," Lu remembers.

The prostheses that Lu helped test might sound like science fiction, but they're not: One amputee made her a breakfast sandwich using a prosthetic hand controlled by myoelectric signal processing, slicing bread, spreading butter, and frying eggs. This technology could help the amputees Lu has befriended over the years at Walter Reed, and many others as well.

Throughout Lu's efforts in medical research and NROTC training, one particular memory from the summer after her freshman year lingers with her. She was shadowing the director of blood services on surgical rounds at the National Naval Medical Center in Bethesda, Md. A Marine who had suffered massive injuries from an explosion in Afghanistan was rushed into the operating room, but passed away hours later.

"I felt helpless when I saw that young Marine — all I could do was stand and watch," Lu says. "That's one of the things that really drove me to want to be a military doctor and to take my MIT education, my ROTC training, and all the subsequent things that I've done seriously. It's very much wanting to take action."

As an aspiring surgeon for the Navy, "I want to serve the people who serve," Lu says. "Once you find something where it doesn't feel like work, you know it's right."