In the spring of 2011, with the full implementation of
online subject evaluations
and significant improvements to
Who's Teaching What
, MIT moved to an entirely online evaluation system. The new system is more flexible, timely and accurate and eliminates nearly 40,000 paper forms each semester.
Data collected through subject evaluations provide important feedback and a measure of accountability about teaching and learning at MIT. Students use this information to make curricular choices; instructors use it to affirm or adjust their teaching methods; and departments consider it when making decisions about promotions and teaching assignments. The data also provide valuable insights about what is working for students and what they would like to experience in the classroom
This new online system was the result of a four-year collaborative effort between The Office of the Dean for Undergraduate Education (DUE) and Information Services and Technology (IS&T), based on the charter set forth by the Working Group on the Collection of Teaching Data. The system is administered by DUE's Office of Faculty Support (OFS).
A closer look
Through Who's Teaching What, departments can enter and review information on who is teaching what subject and who is enrolled in each section. It also enables administrators to select subjects and instructors for evaluation and add custom questions for an individual section, subject or instructor.
The online subject evaluation website lets students provide feedback on their learning experience in a particular subject. The system is available 24/7 during the evaluation period and sends reminders to non-respondents every few days. Instructors can monitor these responses in real time and reports are available immediately after the grading period ends.
Summary information
from these evaluations (as seen in the example below) is available to everyone in the MIT community, while instructors, department heads, and academic administrators can also access student comments.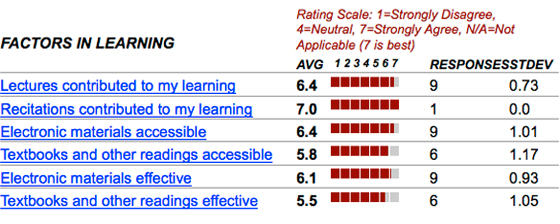 This table gives a high-level snapshot of OSE-WTW statistics for the spring 2011 term:
Systems Data
Description
795
Subjects flagged for evaluation in spring 2011 end-of-term evaluations
35
Departments participating
1471
Individual instructors who were flagged for evaluation
59%
Average response rate per subject
449
Additional questions added to surveys by departments and instructors
For a history of the project, see the
Online Subject Evaluation/Who's Teaching What Project page
.