Team-based, hands-on activities at MIT have been seriously challenged by the Covid pandemic. This has certainly been true for the W. David Kingery Ceramics and Glass Lab at MIT, where students work in close proximity learning the ancient craft of glass blowing. Practices long considered normal — like sharing blowpipes — suddenly became off-limits in the context of a highly transmissible and health-threatening virus.
In September 2020, the Glass Lab received permission to restart limited operations. No students would be in the lab, and only a few senior instructors were granted access for the purpose of blowing 2,000 glass pumpkins for the annual (and now iconic) MIT Great Glass Pumpkin Patch fundraiser. In order to accomplish this, a new, safer, Covid-compliant way of blowing glass had to be invented.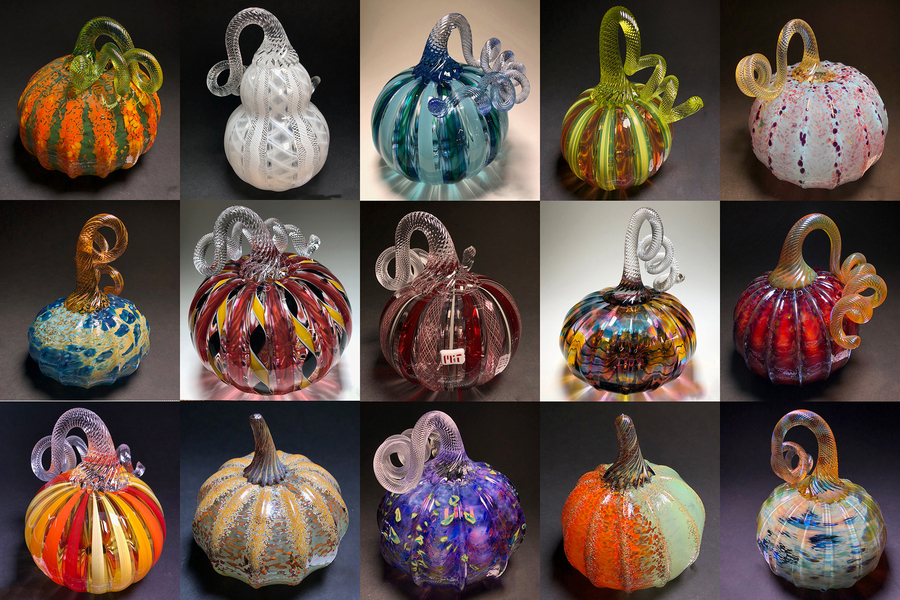 Contrary to popular belief, it takes very little air pressure to inflate a glass bubble. The glass only needs to be hot enough to move. In fact, the typical glass blower generates no more than 4 to 6 pounds per square inch while mouth-blowing.
Since all workstations in the lab are equipped with compressed air, it was not difficult to design and install a system whereby the glass blower, wearing a mask at all times, could introduce air into the end of a blow pipe through a hose, using a pneumatic foot pedal to start and stop inflation. It's a simple, yet very effective, solution.
One year and 2,000 pumpkins later, lab members have worked out the kinks and are confident that its alternative inflation system is a safe and effective teaching tool, as a new beginning glass blowing class begins this fall.
For MIT community members, the Great Glass Pumpkin Patch sale will both in-person (on Kresge Oval) and online at mitglasslab.org on Sept. 24-25.