The lab tours are over, the faculty presentations complete, and the summer placements chosen. Now, 14 undergraduate interns move into their chosen labs at MIT for nine weeks to work on various research projects in science and engineering.
The 14 interns — chosen from among 256 applicants in a highly competitive process — are participating in the Summer Scholars Program for undergraduate students at MIT, jointly run by the Materials Processing Center (MPC) and the Center for Materials Science and Engineering (CMSE).
In June, the selected scholars heard presentations from faculty, postdoc associates, and graduate students each morning, and toured labs on campus each afternoon, seeing a total of 23 research projects to potentially join. The process culminated with interns choosing which labs they'll work in this summer. There were nearly twice as many proposed projects as interns available, making it a competitive process for presenters as well.
"We're looking forward to the wonderful things they're going to learn and do," says CMSE Director Michael F. Rubner, the TDK Professor of Polymer Materials Science and Engineering.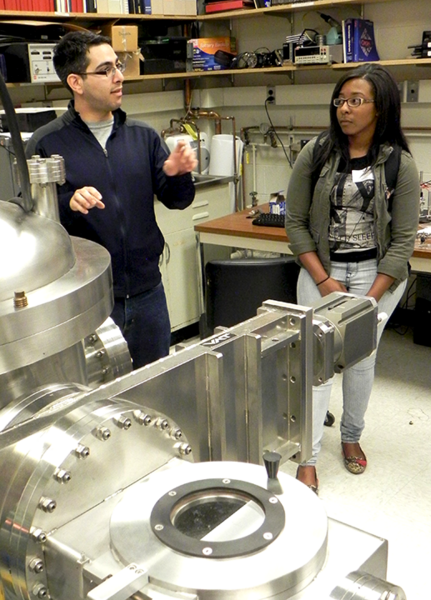 Photo: Denis Paiste/Materials Processing Center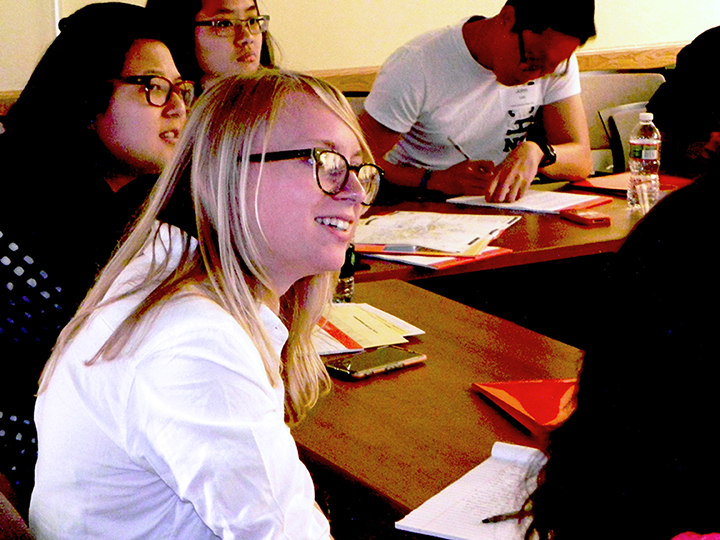 Photo: Denis Paiste/Materials Processing Center

Photo: Denis Paiste/Materials Processing Center
Sarah M. Arveson, a senior at the University of California at Berkeley, will spend the summer in the lab of William A. Tisdale, an assistant professor of chemical engineering. "What really struck my interest about them was the fact that they do a lot of basic science, and they are interested eventually in applying it to solar cells," Arveson says. "But within the lab, they are concerned with characterizing on a very small level."
A double major in geophysics and applied mathematics, Arveson is considering earth science or materials science for graduate school. "This is a way for me to explore materials science and see if it's something I want to continue in. There is a very large overlap in microscale earth science and materials science," she says.
Kevin Romero, a senior chemistry and mathematics major at Linfield College, chose assistant professor of chemical engineering Yuriy Román's lab. Román's lab aims to create energy efficient processes for producing renewable plastic bottle material. Bottles are typically produced from paraxylene, a petroleum product, by converting it to terephthalic acid, then to polyethylene terephthalate (PET).
The summer project aims to develop a chemical process using a Lewis acid catalyst to create renewable terephthalic acid, a precursor chemical to plastic bottle material. "We create the di-ether with your Lewis acid catalyst, and then this same Lewis acid catalyst will be able to do this Diels Alder chemistry to make a di-alcohol," Román explains. The alcohol can be converted to terephthalic acid. "This will give you a route to make renewable terephthalic acid from biomass with a single catalyst and a single reactor system."
"You want to minimize unit operations, you want to reduce use of precious metals and we will avoid the use of very expensive or very energy intensive oxidation processes. So hopefully, we will be able to unravel this pathway for renewable plastics," Román says.
In his presentation, Román noted that new federal standards for cutting carbon dioxide emissions from power plants will increase demand for chemists and engineers to meet the challenge.
The CMSE-MPC Summer Scholars Program is largely funded by the National Science Foundation's Research Experiences for Undergraduates (REU) program. MPC covers student travel costs, staff time, and some meeting expenses. This year's program runs June 9 through Aug. 10.
The interns and their chosen faculty labs:
Sarah M. Arveson; William Tisdale, an assistant professor of chemical engineering
Eric Bailey; Cullen Buie, an assistant professor of mechanical engineering
Gabriel Denham; Markus Buehler, a professor and head of civil and environmental engineering
Karen Diaz Toledo; Yoel Fink, a professor of materials science and engineering
Meredith Fields; John Hart, an associate professor of mechanical engineering
Catherine Groschner; Fikile Brushett, an assistant professor of chemical engineering
Alyssa Johnson; Yang Shao-Horn, a professor of mechanical engineering
Rahul S. Kini; Carl Thompson, a professor of materials science and engineering
John Lee; Paula Hammond, the David H. Koch Professor in Chemical Engineering
Jessica Ma; Ron Ballinger, a professor of nuclear science and engineering
Naomi Morales; Brian Wardle, an associate professor of aeronautics and astronautics
Kayla Robinson; Alan Grodzinsky, a professor of biological engineering
Kevin Romero; Yuriy Román, an assistant professor of chemical engineering
Julia Zhao; Brad Olsen, an assistant professor of chemical engineering