Several hundred members of the MIT community gathered Tuesday evening to mourn the 49 members of the LGBTQ community, many of them Latino and people of color, who died in Sunday's mass murder in Orlando, Florida. The vigil offered staff, students, faculty, administrators, and friends a chance to pay tribute to those killed and injured, and to reflect on the intersection of oppression and violence in America.
The event started off with a somber gathering beside the MIT student center (Building W20), where community members picked up rainbow flags and posters commemorating the individuals murdered at the Pulse nightclub, a favorite hangout for many in the LGBTQ community of central Florida. Attendees then marched in silence across Massachusetts Avenue and toward Memorial Drive, turning left past Killian Court to the grassy oval next to Walker Memorial.
There, those with flags quietly planted them in the grass, while onlookers formed a large "healing circle." After attendees took turns naming each of the victims aloud, they were offered an opportunity to shout, scream, and cry out in anger and frustration over the massacre and others like it in recent U.S. history.
The procession next moved toward the Infinite Corridor and into Lobby 10, where participants gathered for thoughts and remembrances from various community members. Speakers included Director of LBGT Services Abigail Francis, Assistant Director of LBGT Services Julio Oyola, Muslim Chaplain Hoda Elsharkawi, and Chaplain to the Institute Robert Randolph. "Now, more than ever," Oyola said, "we must recognize [our] common interests in joining together." Oyola further asked participants to fight for those in the LBGT community — especially those who are also people of color — to be loved openly, and to publicly reject negative actions of a few that do not represent a larger community. "I would like you to join me in an affirmation," they said, asking attendees to turn to a neighbor and, with consent, hold hands or share a hug. "Repeat after me: I see you. I value you. I matter. And the world is better for having me in it."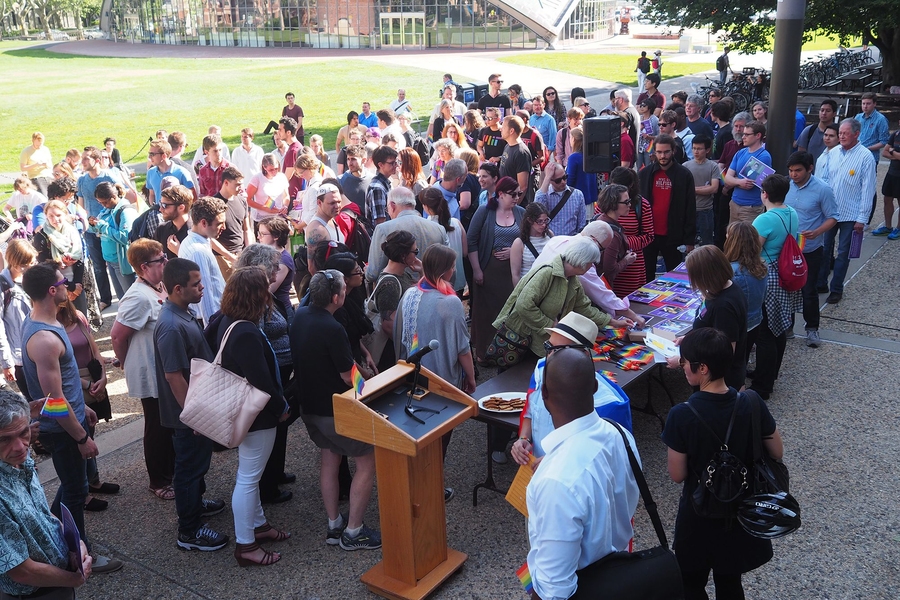 Photo: Maia Weinstock/MIT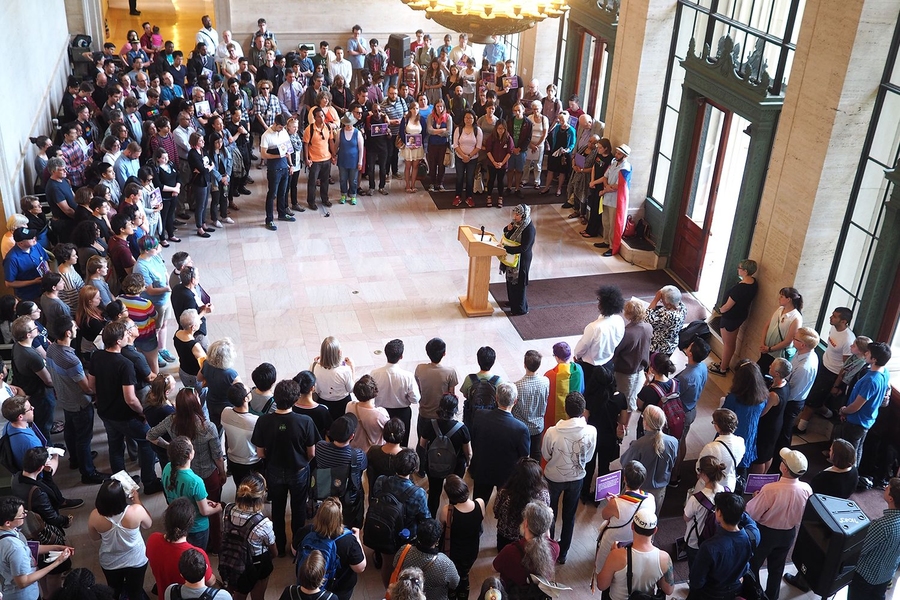 Photo: Maia Weinstock/MIT