This afternoon, the MIT Corporation — the Institute's board of trustees — elected Robert B. Millard '73 to serve as chair of the Corporation, effective this October.
Millard succeeds John Reed '61, SM '65, who has served as chair since June 2010. After the transition in chairmanship in October, Reed will serve as Life Member Emeritus of the Corporation.
"I am truly honored to have been elected to this position by my Corporation colleagues," Millard says. "MIT formed me when I was a student here, and my Corporation work in more recent years has given me a profound sense of appreciation for how energetically MIT continues to pursue its mission. I look forward to working with President Reif and the Institute's senior leadership."
"Bob Millard has been an active member of the MIT Corporation for many years," Reif says, "and I am delighted that he has agreed to serve as its chair. Humble, a critical thinker, a problem solver, and a doer, Bob has a way of constructively asking insightful questions and of getting people to focus on the most important long-term strategic issues. I very much look forward to working closely with him."
Reif praised Reed for the leadership he provided during his tenure as chair, saying: "John's remarkable professional experience, deep and enduring connection to MIT, and extraordinary rigor and discipline proved to be of immeasurable value. John led a smooth transition from President Hockfield's presidency to mine, and he played a central role in preparing the Institute for the next capital campaign. To these and other critical pieces of MIT business, John brought imagination, focus, and a steady hand. MIT was strengthened greatly by John's chairmanship, and I look forward to his continued help."
The chair of the MIT Corporation presides over all Corporation meetings and chairs the Executive Committee, the Corporation Development Committee, and the Membership Committee; the chair is also a member of the Investment Management Company Board.
Millard joined the MIT Corporation as a Term Member in 2003 and was elected a Life Member in 2013. He has served on the Executive Committee for 10 years and on the Investment Company Management Board for seven years, including serving as its chair for the last four years. He is a member of the Visiting Committees for Physics (2000 to present, including eight years as chair), Architecture (2004 to present), and Chemistry (2013 to present).
In addition, Millard has served as a member of the Linguistics and Philosophy Visiting Committee, the Corporation Development Committee, and the Advisory Council for the Council for the Arts. He was director of the MIT Club of New York from 1987 to 1993.
In 2011, Millard received the Bronze Beaver Award, the MIT Alumni Association's highest honor for distinguished service. 
Millard joined Kuhn Loeb & Co. in 1976, and became a managing director of Lehman Brothers Inc. in 1983. He built and led the risk arbitrage/proprietary investing business.
He is currently the chairman of Realm Partners LLC, a private investment partnership. He is also chairman and president of Churchill Allagash Holdings LLC, a timber company in Maine.
Millard co-founded and served as the chairman of L-3 Communications Holdings, a Fortune 200 firm that supplies electronics and communications products to the defense and intelligence industries, and he remains lead independent director and chairman of the executive committee for the company. He serves on the board of Evercore Partners, an independent investment-banking advisory firm, and has previously served on a number of other public and private company boards. 
He has previously served on numerous nonprofit boards, including that of the New School (executive committee); the Population Council (executive committee); the Remarque Institute; Associated Universities Inc. (a scientific board with historical ties to MIT); the Corcoran Gallery of Art; the Mannes College of Music (chairman of the board); and the Manhattan Theater Club. Millard is a current member of the Council on Foreign Relations and serves on its finance and budget committee.
Born in New York, Millard holds an SB in architecture from MIT and an MBA from Harvard University. He and his wife, Bethany, reside in New York. They have four children.
Other elections
During today's meeting, the Corporation elected 11 term members, with terms of five or two years. Corporation Chairman John Reed announced the election results; all appointments are effective July 1.
Nine term members were elected to serve for five years: Alan M. Dachs; Rafael del Pino SM '86; Mark R. Epstein '63, SM '64; Ilene S. Gordon '75, SM '76 (an Alumni Association nominee); John W. Jarve '78 (an Alumni Association nominee); Alan M. Leventhal; Samantha F. O'Keefe '09, SM '12 (the recent-classes nominee); Theresa M. Stone SM '76; and Ronald A. Williams SM '84 (an Alumni Association nominee).
Two members were elected to serve for two years: Eran Broshy '79 and Victor J. Menezes SM '72.
This year, two new Life Members were elected: Mohammed A.L. Jameel '78 and Barry Lam.
It was also announced at the meeting that Donald E. Shobrys '75 is the 2014-15 president of the Association of Alumni and Alumnae of MIT and ex officio member of the Corporation and of the Corporation Joint Advisory Committee on Institute-Wide Affairs.
Both Term Members and Life Members — who serve without a specific term until they reach age 75 — have voting rights in the Corporation. At age 75, Life Members become Life Members Emeritus; while they no longer have a vote, they continue to play an active role in Institute affairs.
As of July 1, the Corporation will consist of 78 distinguished leaders in education, science, engineering, and industry; of those, 25 are Life Members and 8 are ex officio. An additional 33 individuals are Life Members Emeritus.
The elected Term Members are:
Eran Broshy '79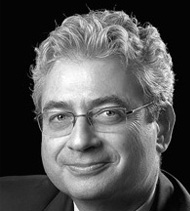 Executive Advisor, Court Square Capital Partners
Broshy earned his SB in civil engineering from MIT in December 1978. He subsequently completed his MS in civil engineering at Stanford University in 1979 and his MBA at Harvard University in 1984. After a few early years as a civil engineer and project manager, Broshy has spent the last 30 years as a strategically focused health care executive, building leading high-growth public and private healthcare businesses as CEO, board chairman and director, strategist, and investor. For the last four years, Broshy has partnered with select private-equity firms to invest broadly in health care. Previously, Broshy served for more than a decade as CEO and chairman of inVentiv Health, where he transformed the company into the leading global provider of outsourced clinical, communications, commercial, and patient outcomes services to the biopharmaceutical industry. Previously, Broshy spent 14 years, from 1984 to 1998, at the Boston Consulting Group, including six years as the managing partner responsible for the firm's health care practice across the Americas. Broshy serves on the Brain and Cognitive Sciences and Health Sciences and Technology Visiting Committees and on the Dean of Science Advisory Council. He previously served on the Social Sciences Visiting Committee.
Alan M. Dachs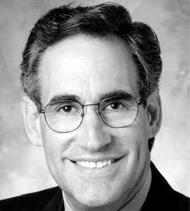 President and CEO, Fremont Group LLC
Dachs received a BA in liberal arts from Wesleyan University in 1970, an MBA from New York University in 1974, and an honorary doctorate of humane letters from Wesleyan in 2007. Dachs is president and CEO, and a director, of Fremont Group LLC, a San Francisco-based investment firm specializing in direct investments, real estate, venture capital, and publicly traded securities. Prior to his current post, Dachs held positions in the banking and construction industries. After graduating from Wesleyan, he joined Chemical Bank and New York Trust Company, where he was a credit officer serving the contractual lending requirements of Fortune 500 customers. In 1974 Dachs joined the Refinery and Chemical Division of the worldwide engineering and construction firm Bechtel. Dachs progressed through several field-engineering assignments until returning to the firm's headquarters in San Francisco. There he specialized in project finance and later served as chief financial officer of Dual Drilling Company, a wholly owned subsidiary. Dachs became president of Bechtel Investments (the predecessor to Fremont Group) in 1987. He serves on the Dean for Undergraduate Education Visiting Committee and served previously on the Engineering Systems Division Visiting Committee.
Rafael del Pino SM '86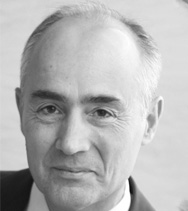 Chairman, Grupo Ferrovial SA
Del Pino obtained his MS degree in civil engineering in 1981 from the University of Madrid. Shortly thereafter, he joined the Ferrovial Group, a company founded by his father, where he worked as project manager in Libya and Spain before attending MIT, where he graduated from the MIT Sloan School of Management in 1986 with an SM in management. After graduating from MIT, del Pino returned to the family company, where he became chief financial officer in 1989 and CEO in 1992. He was appointed chairman in 2000. During del Pino's tenure as CEO and later as chairman, Ferrovial has been transformed from a mostly domestic, privately held construction company into an international leader in the development of private infrastructure, mainly toll roads and airports, with activity in more than 40 countries. Del Pino has served as a Corporation member since 2009 and serves on the Architecture, Materials Science and Engineering, and Sloan School of Management Visiting Committees.
Mark R. Epstein '63, SM '64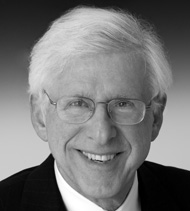 Senior Vice President for Development, Qualcomm Inc.
Epstein received an SB degree in 1963 and an SM degree in 1964 from MIT, both in electrical engineering, and a PhD in electrical engineering from Stanford University in 1968. Since 1986, Epstein has been senior vice president for development at Qualcomm Inc. He guides corporate international development activities, technical standards, and the development of intercorporate relationships in support of the company's wireless businesses. From 1980 to 1986, Epstein was deputy for communications, command, control and intelligence in the Office of the Secretary of the U.S. Army, where he led the Army's electronic research and development programs. Epstein served as a Corporation member from 2002 to 2007 and currently serves on the Corporation Development Committee and on the Media Laboratory/Media Arts and Sciences Visiting Committee. He previously served on the Music and Theater Arts and Earth, Atmospheric and Planetary Sciences Visiting Committees.
Ilene S. Gordon '75, SM '76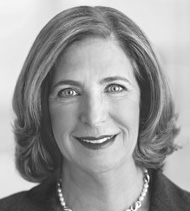 Chairman, President, and CEO, Ingredion Inc.
Gordon holds an SB degree in mathematics, Phi Beta Kappa, from MIT, awarded in 1975, and an SM degree from the MIT Sloan School of Management, awarded in 1976. Prior to Ingredion, Gordon was president and CEO of Rio Tinto Alcan, a $6.5 billion global packaging business based in Paris. Previously, she spent 17 years in executive roles of increasing responsibility at the Packaging Corp. of America, a division of Tenneco Inc., and at Signode. She began her career at the Boston Consulting Group as a strategy consultant based in Boston, London, and Chicago. She previously served on the Mathematics Visiting Committee.
John W. Jarve '78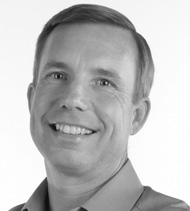 Managing Director, Menlo Ventures
Jarve received SB and SM degrees in electrical engineering and computer science from MIT in 1978 and an MBA from Stanford University in 1983. Jarve is a managing director at Menlo Ventures, a venture capital firm, which he joined in 1985. Menlo Ventures provides early-stage financing to emerging growth companies in the software, communications, storage, mobile, e-commerce, social, and web sectors. Jarve served as a Corporation member from 1998 to 2003 and from 2007 to 2012, and also in an ex officio capacity from 2013 to the present, as president of the MIT Alumni Association. He serves on the Corporation Development Committee and on the Materials Science and Engineering and Nuclear Science and Engineering Visiting Committees, and served previously on the Visiting Committees for the Dean for Undergraduate Education, Civil and Environmental Engineering, Electrical Engineering and Computer Science, and Mathematics.
Alan M. Leventhal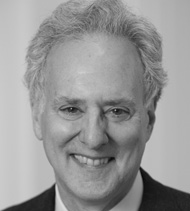 Chairman and CEO, Beacon Capital Partners
Leventhal received his bachelor's degree in economics from Northwestern University in 1974 and an MBA from the Tuck School of Business at Dartmouth College in 1976. He has been a Corporation member since 2013 and serves on the Music and Theater Arts and Urban Studies and Planning Visiting Committees.
Victor J. Menezes SM '72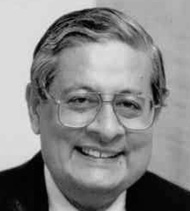 Senior Vice Chairman, Citigroup Inc. (Retired)
Menezes received a degree in electrical engineering from the Indian Institute of Technology in 1970 and an SM degree from the MIT Sloan School of Management in 1972. He was senior vice chairman of Citigroup Inc., retiring in 2005 after a 32-year global career with the company. He served previously as chairman and CEO of Citibank and was head of Citigroup's emerging markets business, with responsibility for the corporate and consumer businesses and global product responsibility for e-business and global securities services. In 1995 he was named chief financial officer of Citicorp and Citibank. Previously, he headed Citibank's businesses in India, Hong Kong, China, and Europe. He also chaired Citi's India Advisory Board from 2011 to 2013. He is currently a senior operating advisor with New Silk Route, an international private-equity firm. He served as a Corporation member from 2008 to 2013, during which time he served on the Risk and Audit Committee and on the Media Lab/Media Arts and Sciences and Sloan School of Management Visiting Committees.
Samantha F. O'Keefe '09, SM '12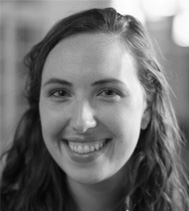 Editor, TechCrunch
O'Keefe obtained an SB in civil and environmental engineering in 2009 and two SM degrees, in civil and environmental engineering and in technology policy, in 2012, all from MIT. O'Keefe is currently an editor at TechCrunch, a San Francisco-based weblog dedicated to profiling and reviewing new Internet products and companies and existing companies that are making a commercial or cultural impact on the Web. Previously, she was the head of global sales and strategic partnerships at AngelHack, a company that organizes large hackathons for enterprise clients. During her time at MIT, O'Keefe was coordinator of the Freshman Leadership Program and a co-director for the MIT Energy Fellows Program, collaborating with Teach for America and the MIT Energy Conference to recruit students and provide an opportunity to showcase their learning. She was captain of the varsity women's lacrosse team, vice president of the 2009 Class Council, and a member of the executive committee of the Sigma Kappa sorority.
Theresa M. Stone SM '76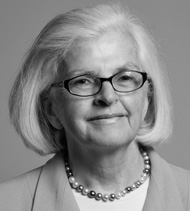 Executive Vice President and Treasurer, MIT (Retired)
Stone received a BA degree in French literature from Wellesley College in 1966. She studied French and comparative literature at Cornell University from 1966 to 1970 and received an SM degree in management from MIT in 1976. Stone was an investment banker at Morgan Stanley in New York, advising financial institutions, from 1976 to 1990. She joined the Chubb Corporation in Warren, N.J., in 1990 as senior vice president. In 1994, she became the president and CEO of Chubb Life Insurance Company; she served as executive vice president of the parent Chubb Corporation from 1995 to 1997. Stone joined Jefferson-Pilot Financial, a Fortune 500 financial services and broadcasting company, in 1997, as president of the broadcasting business Jefferson-Pilot Communications Company. In 2001, she assumed additional responsibility as chief financial officer of Jefferson-Pilot Financial. In 2007 Stone became executive vice president and treasurer of MIT, serving until her retirement in 2011. Stone has served as a Corporation member from 1996 to 2007 and from 2012 to the present; she has served on the Executive Committee, the Corporation Development Committee, the Investment Committee, the Joint Advisory Committee on Institute-Wide Affairs, and on numerous Visiting Committees.
Ronald A. Williams '84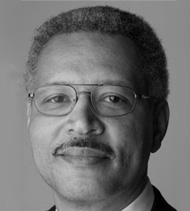 Chairman and CEO, RW2 Enterprises LLC
Williams holds a BA in psychology from Roosevelt University, awarded in 1970, and an SM in management from the MIT Sloan School of Management, awarded in 1984. Williams joined Aetna Inc. in 2001. In 2002, he was named president; in 2006, he was named CEO and chairman of the board. He served as both chairman and CEO until 2010, and as chairman through April 2011. Williams focused on transforming Aetna's strategy, culture, operating performance, and financial results. During his tenure, Aetna was named Fortune's most-admired company in the "Health Care: Insurance and Managed Care" category for three consecutive years. After retiring from Aetna in 2011, Williams founded RW2 Enterprises LLC, a business advisory firm. In 2010, he co-chaired the World Economic Forum's annual meeting in Davos, Switzerland. In 2011 he was asked to serve on the President's Management Advisory Board, providing insight into how IT can be developed to create an efficient government operating model. He serves on the Corporation Development Committee and on the Sloan North American Executive Board; he previously served on the Sloan School of Management Visiting Committee.